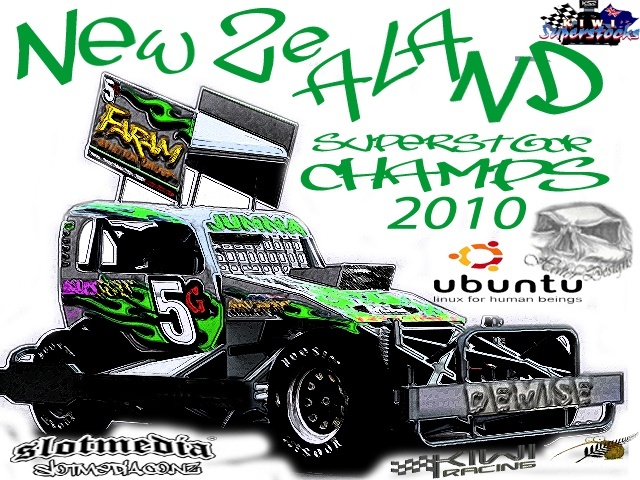 Kiwi Racing | New Zealand Super Stock Champs | 2010
This is the final race ever
When: 10/10/2010
Where: KihiKihi Speedway
Superstock rules apply (see below)
Time: 7:30pm - 9:30
Format:
*Two servers will be open for qualifying
*Each racer will get 3 grids
*3 races per person
*Top 30 points in qualifying will advance to the finals
*A second grid draw will be done
*3 grids, top points will determain the winner
Those who did not qualify will race on server 2
Server 2: Best of the rest, ai grids, racing will be done (before the finals)
Rules drivers must read and agree to!
1. No Grass cutting to gain Positions etc
2. Contact is to be allowed but to a extent
3. All drivers have to obey admins rules and what they say
4. No Abusing members at any time.
5. All racing is to be done in an anti clockwise direction.
6. There will be no talking during racing or qualifying sessions it is not needed
7. Drivers must exit from the track straight away if they have a blown engine etc
8. Keyboards, Controllers and wheels are all aloud to be used
9. No turning right from a stationary postion
10. No Parking in the middle of the track to block
11. If continuous blocking happens and you are seen doing it you may be kicked
12. No Slamming on the brakes at the start to block and no using the driver in front to break at corners.
13. IF YOU HAVE A PROBLEM, DON'T HESITATE TO TELL ONE OF THE ADMINS
14. NO legend or team skins allowed.
Fail to agree to these rules will determain an standown for 6 months on the servers!
Protests
to be sent to Protest admin/Xtreme_H8R/. All protests have to be sent to Protest Admin in between 12 hours of racing finishing
These Points will be added to your Main points for OSR Rfactor
ALL RACERS MUST BE ON VENT 15 MINUTES BEFORE RACING STARTS!
REMEMBER:
1nz, 2nz and 3nz skins up for grabs
_____________________________________
Grids will be done once entrys close
______________________________________
So post up what car you would like to use and your rfactor name
___________________________________________________
Results:
after all protests and agreements from the officals have been approved, the final results will be posted on the forum 20 hours after racing!
*You can paint your own or get others to paint you a 1nz, 2nz, 3nz car
*You will get a screenshot of you car and a write up, and then posted on the forum (all 1, 2, 3 places)
* Braging rights for the rest of the year!


Last edited by Xtreme_H8R on 10th October 2010, 11:03 pm; edited 5 times in total